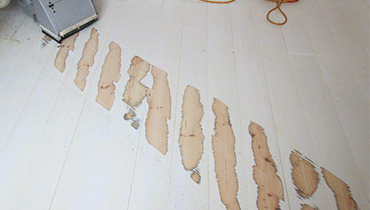 Do you know how we recognise the best clients? It is not about their budget and how they don't have any claims. It is about when we find out they are as motivated as we are to achieve the best results and never settle on something mediocre and fairly good. In the first place this flame we see in their eyes stimulates us to work hard and provide the best results, on another hand we know that working with people with the highest expectations and promising that to them, we have the experience, talent and knowledge to be confident and make these expectations a reality. This is the reason we believe our clients are the best here in Harpenden! And also this is the reason we are the best flooring company, based on our passion to concur with your expectation for a sanding service.
Floor Sanding Company You Can Trust
Since we believe our clients are the reason we are the best professionals in the area, we are more than happy to have such an extensive and loyal customer community for the years we are on the market. The community is the word we use because we don't like to think of you as a clientele, but more like our friends and even more than that – our inspiration and inexhaustible source of ideas! Hiring us is not simply to hiring any flooring company around, it is a true commitment with high quality, professionalism and the best floor restoration experience. Being a part of our wood floor restoration service means being a part of a project, which will significantly improve your floor's condition and also visual, performed by our skilled and well-organised experts and their contemporary almost completely dust-free equipment.
Restore The Natural Beauty of Your Old Wood Floor
Floor sanding gain more and more popularity, especially in the era of recycling and restoration tendencies. It was not that long ago when people started to hide their initially beautiful but damaged with time wood floors under a carpet and now we are more than happy to be part of the change of this meaningless trend and stimulate you to pamper your wooden installation and use it once again with pleasure. Sanding is the service, adaptive for solid wood, engineered wood, floorboards and parquet floors, which will remove any dirt and worn finish build-ups and also scratches, dents, gaps and imperfections in general, leaving the surface of the floor completely smooth and even, ready for the nest sealing or staining if you consider some.
Remarkable Floor Refinish
Sanding is part of the overall repair of the construction and if you hire true experts, it is performed according to the highest standards, which mean with prior restoration and fixing loose planks, nails, gap filling and more additional services. Creating a fixed, sturdy and even base and then making sure it is protected with top quality finishing products and colour pigments is you guarantee not only for visual improvement but also a long-lasting effect of durability, longevity, solidness. And this is exactly what we can promise you without a doubt and what is even more pleasant – in a timely manner and at an affordable price!
School Flooring Services Harpenden
School floor restoration can completely change the way your school halls and gymnasiums look. Everyone enjoys visiting a public building and see that everything is well-maintained and kept in order. We are contractors specialising in school floor sanding and restoration. We know how to avoid disruption to regular school life, thanks to our flexible schedules while our dust-free sanding equipment will make sure there will be no mess left behind. We understand the value of appearances only too well and after we are done with the task, you will see a huge difference in the way the people perceive your school!
Very happy. Very good overall.
Wonderful job done. Quick and efficient. Very pleased.
Wonderful job done. Quick and efficient. Very pleased.