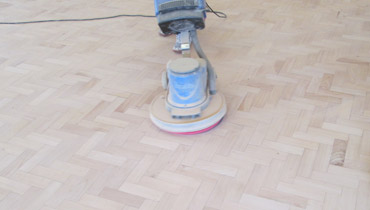 Parquetry is considered one of the most beautiful and desired types of wood flooring and for good or bad – one of the most challenging when it comes to dealing with sanding. Well, beauty has its cost, right? Owning parquetry you better know the cost and also the value of it and we are sure you handle it with care and attention, providing the proper maintenance and cleaning. However, when it comes to floors, not everything depends on you. They are most of the time the spot experiencing highly daily use, surviving the unforgettable power of the high traffic and exterior influences such as humidity, sun exposure, etc. Well, owning parquetry, we know you would like to save its initial beauty and durability forever and this is exactly what we promise you by hiring our qualified floor men for your domestic or commercial project in Harpenden.
We don't believe there are too many challenging projects. Or better, we do believe in them, but rather take them as a provocation to show our skills, experience and talents. Challenging is equal to our motivation to provide you with the best quality and pleasant experience, ending up in flawless results and this is the main conception of our parquet floor restoration service, available in Harpenden. If you are as motivated as we are to achieve the best and won't settle on mediocre quality and almost good outcomes, we think you just have found your best option. Don't get us wrong, we are not hyper-advertising, we are just enthusiastic to help you and we start right here by giving you more information about how we imagine the renovation of your parquet floor will happen chronologically in your home or working space.
We always start with the proper preparation and won't skip it also for your case. By preparation, we mean the process of prior restoration if the floor is in poor condition and needs repairs. The most common scenarios here come with stability issues. Loose wooden blocks, nails or wood adhesive lost their power due to some internal or external reasons, also thinner wood, deep scratches and non-structural gaps due to wood's contraction and "ballooning", squeaky noise and more, and more… all of them we will fix in order to create a sturdy base for the upcoming services and procedures.
The main idea behind sanding the parquet blocks is removing dirt and worn finish build-ups from the surface of the floor and if required, removing the top layer of the wood's surface in case it is scratched, damaged, distressed. If you can, you can help us and answer how many times your parquet floor is already sanded, since that way we can make the best. Also, we use high quality and latest trend equipment, which are low-dust and save you energy, money and time. Our machines are something like Lamborghini in wood floor sanding!
Finally, our experts will recommend you sealing. Sealing is the process of applying finishing products over the newly sanded floor in order to add more stability and durability and protect it from outside and inside. Why sealing is recommended right after? Because after sanding the pores of the wood are open and sealants (also dyes) will soak successfully.