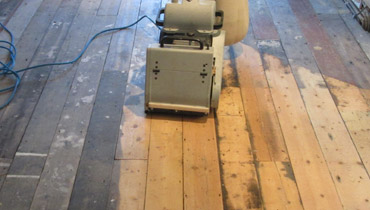 Harpenden is blessed to have such eye-catching architecture, a city with a rich history and a lot to be proud of. We think the same can be said also about the interior of those eye-catching buildings with their own history, character and vibrant appearance. One of the most attractive features of the building, no matter if contemporary or old-world charming are the floors. A focal point of any room, the floor has the potential to conduct the entire concept of the interior design and usually do that with its highly noticeable and strong visibility. Hardwood installations are, in fact, the most common type, chosen to bring elegance, cosiness and attractiveness to every house, workspace, etc. It is sad to find hardwood in older houses, buried deep under a carpet, for example. It is sad because hardwood is the only material that power to create an atmosphere on its own. We at Floor Sanding Harpenden believe that we can restore every hardwood construction and bringing it back to its previous glory, simply by offering to our Harpenden domestic and commercial clients a great solid wood renovation service. Here are some of the benefits if considering sanding:
It's perfect for new installations because it will open the pores of the wood and prepare it that way for the upcoming sealing.
Sanding is great also before staining because it will smooth out the surface and all imperfections, which colour pigments will highlight otherwise.
Of course, this service is perfect for older floors in bad condition. It will remove all the scratches, dents, imperfections and even out the surface. By removing the dents, sanding will prevent future wood cracking, breaking, thinning.
Sanding will also remove all the stains, the dirty and worn finishing layer, and the worn wood's surface, exposed for a long time on sun rays, high traffic, everyday use and aggressive environment.
Purchasing this service from a reliable and expert company such as ours brings more advantages. True professionals will do proper preparation, including repair and restoration if the floor is in poor condition. That way our specialists fix loose hardwood timber parts, loose nails, squeaky noise and many more.
In fact, hiring us to do the job for you in Harpenden is your guarantee for professionalism, competence and flawless results. Our company is a leading name in the branch for already decades. We managed to form the ultimate sanding team of professionals for the years we are on the market and are proud to offer sand to our clients as a pleasant experience. In addition, we count on modern and almost completely dust-free equipment and high-quality products, so we will leave the project completely tidy and no-mess. If you are satisfied with the outcome, and we are sure you will be, be sure to hire us also for the next recommended services – sealing and staining.
If you need additional information on the topic or would like to arrange a free site visit appointment in Harpenden area, be sure to contact us on 020 70360622 or info@flooringservices.london.