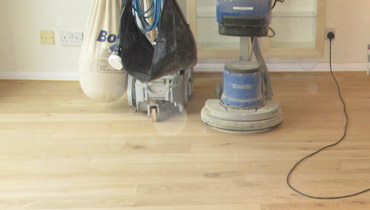 Floor Sanding Harpenden has an announcement to share with you. We love Harpenden clients. Do you wonder why? We love our Harpenden clients because we find them motivated to have the perfect wooden floor. Our city has a rich cultural and architectural history and wooden installations are a common choice. Unfortunately, most of the old-charm ones are hidden under a dusty and ugly carpet and that is pretty sad because the wood has the potential to bring elegance, cosiness and a unique appearance. The only obstacle to the final destination of owning an attractive flooring people find is the poor condition, considered sometimes as impossible to achieve. We have some news for all of you who have dreamed forever for an attractive engineered wood, hardwood or parquet construction in Harpenden and already lost help because our experienced and knowledgeable experts have the talent and skills to transform and restore the previous beauty of every installation by providing sanding service. This is the reason we love our clients. We see their hope and motivation, we find them inspired and provoked, we know they will achieve it, so we offer them the most professional, flawless and satisfying engineered wood restoration service.
Which are the benefits of our engineered wood floor restoration and the main concept of the service you can find here:
Engineered wood is considered a challenging project, because of the construction of the material. It's made with a thin real wood top layer, which requires precise treatment in order to save the initial structure.
This product is manufactured with an industrially applied finish and because of that really hard-wearing and resistant to impact from interior and exterior. However, with time the surface gets worn, damaged, scratched, distressed because of different reasons such as daily use, sun exposure, humidity, etc. Sanding your engineered flooring will completely and gently remove the damaged surface and worn finish and dirt build-ups and smooth it out, preparing it for the upcoming sealing and staining by opening the pores.
Hiring sanding experts have also additional pluses. The true experts always provide proper prior preparation which includes repair if needed. Our technicians will fix loose and squeaky planks, loose nails and also will fill deep dents and non-structural scratches in order to prevent major issues and add extra durability and solidness.
Another advantage of our restoration service for engineered wood available in Harpenden is that our technicians count on the best quality modern equipment, which is almost completely dust-free. You may be scared of the popularity of the sanding method as super messy, but experiencing our service is a guarantee we will leave the house not only with flawless results but also tidy.
In fact, sanding and sealing are good not only for visual improvement, although it is significant. Both methods make wonders when it comes to durability, solidness, long-lasting power and longevity. If you want the fool package of benefits of the services, be sure to contact us!